Chilika Lake – Asia's Largest Brackish Salt Water Lake
Chilika Lake in Odisha is known to be Asia's largest brackish salt water lake speckled with different tiny islands, namely the most enchanting Honeymoon Island, Breakfast Island, Nalabana Island, etc. The shape of the lake is pear shaped and it is also recognized as the most supportive and efficient ecosystem in the region in the name of Chilika Lake Sanctuary. Visitors can check out a large range of fauna, flora and aquatic faunas in and around the lake. Around the shores, there are salt pans and fisheries along with the availability of both native and migrant based avifaunal varieties that makes the region most overwhelming in the country, India. This Lake Sanctuary is genially famous for its amazing and simply captivating sunrise and sunset views. A lot of people from all corners of the world simply visit the lake to see the magnificent views and beauty.
History:
In accord to few ancient texts, Chilika Lake in Odisha was been a prime dock centre for international trading. The known Chinese traveller used to sail on the banks of the lake and later excavations were been conducted and it has been determined out that this open and deep bay is a major port for trading ships heading towards Asia. Even, legends from 4th century proved that the pirate king Red Arm/ Raktabahu travelled across the seas to mob the holy Puri town people. In the fear of attack that time, the locals of the city left the place and the king later felt that he had been betrayed by the sea tides but unluckily, was being strangled along with the troop into the tides. Since then, the region has evolved as Chilika Lake that holds legendary prominence along with famous for wildlife expedition at present.
Wildlife:
The lake is been a real paradise for ornithologists as well as bird lovers and fanatics as it allures the attention of tourists from all around especially in the winter season for the aquatic birds and migratory species. The Chilika lake bird sanctuary is a habitant of the biggest breeding destinations for flamingos worldwide. The prime species, which can be glanced, are purple moorhen, white bellied sea eagles, flamingo jacana, Graylag geese, herons, etc. Aside from avifaunal species, a large variety of wild animals could also be checked out here including spotted deer, golden jackals, blackbuck and hyenas. The basin area of the lake is very prosperous and affluent and this is the reason that more than 160 varied species of fishes, crustaceans, 'Chilika Dolphin' and other marine species are available. The locals of the place are believed to be dependent on the crab, prawn, limbless lizard and mackerel to run their livelihood.
Flora Varieties in Nandan Kanan:
Aside from its wildlife expedition, migratory species and history, Chilika Lake is been famous for supporting eco tourism in Odisha. The lake and its vicinity is been blessed with rich floral system with an abundance of both aquatic and non-aquatic plants. As per the recent environmental survey conducted, over 710 species of plants are been available and this is the prime reason to consider the spot as "Ramsar" site as well.
Also Read: Tribal Life of Odisha – One of Its Own Kinds of World
Safaris:
Chilika Lake Bird Sanctuary is famous as a picnic spot where travellers all round the year come to spend some leisure moments with one and loved ones, enjoy marine wildlife, and check out some of the most interesting species present nearby regions and islands. A boating experience could really add up to one's cherishing experience, held in between sunrise to sunset daily. Safaris are not held in the area, and tourists can make a complete tour by walking throughout the jungle.
Places of Interest: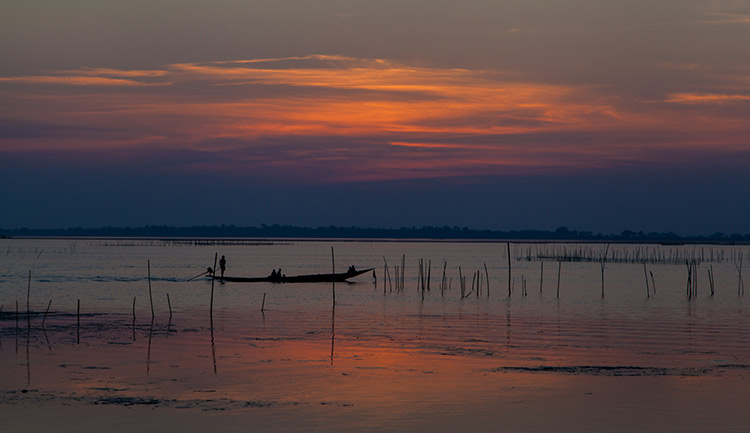 • Satapada – The term Satapada refers to seven villages, and it is located at an approximate 50 kms distance from Puri and at the meeting point of Chilika Lake and Bay of Bengal. The prime attraction of the spot is dolphin watching and boating. The number of Irrawaddy dolphins is known to be more than 100 at Satapada and there are specific points from where they could be easily spotted and the locals are well aware of them. Another attraction is Rajhans Island, an half an hour boat ride from Satapada on Chilika Lake. It is also popular for Sea Mouth Island, where Chilika Lake is known to meet with Bay of Bengal.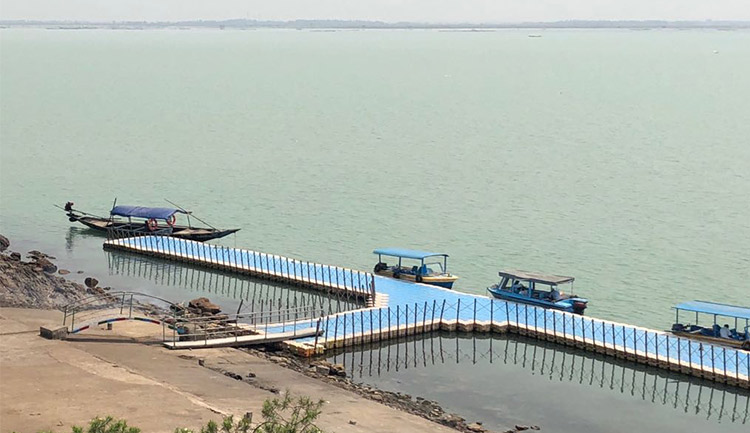 • Barkul – It is one of the prime nodal points in Chilika Lake, if you want to pay a visit to holy Kalijai temple, Mangala Jodi, Nalaban Birds Island and other small migratory bird nesting islands. A large number of people come in huge numbers especially in January to bow to Maa Kalijai. Nalabana Island is quite big in area and among the designated bird sanctuary that comes under the Wildlife Protection Act, and a large number of migratory and resident avians prove as a treat for bird lovers. Mangalajodi village is reckoned to be a community, owned by wildlife venture and supported by Mangalajodi Ecotourism.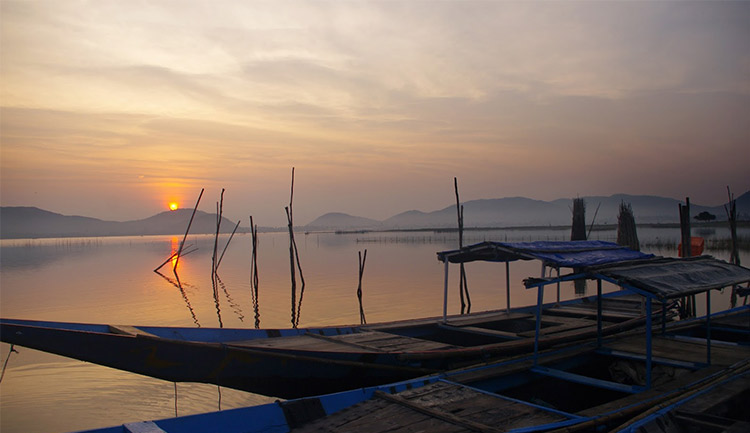 • Rambha – It is another prime and widely visited nodal point in Chilika Lake where travellers and honeymooners come by to visit Honeymoon Island. Honeymoon Island is among one of those chief islands, also famous as Barkuda Island surrounded by plants and trees and the attraction is the aquatic species especially the limbless lizards. Another attraction is the Breakfast Island, which is a 20 minutes boat ride from Rambha bay.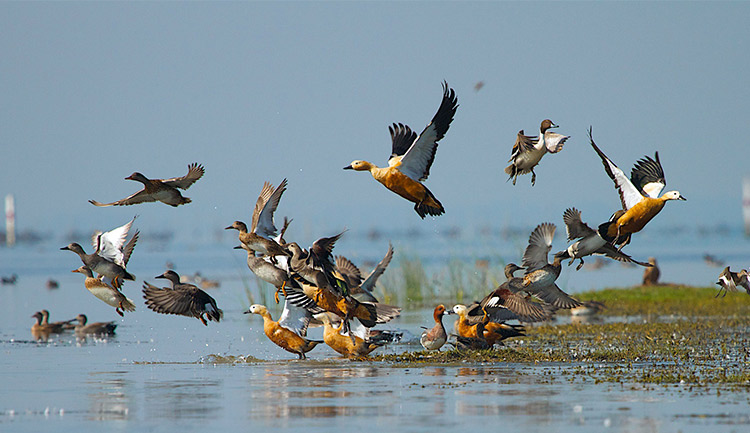 • Bird Sanctuary – Chilika Lake is been famous for its bird sanctuary and availability of so many birds and aquatic species, wild animals, flora and fauna, avifaunal varieties, etc. Indeed, it is a perfect place for all ornithologists to watch birds in their natural form and habitat amongst serene surroundings.
• Brahmagiri – This destination is been famous for its scenic beauty, natural surroundings and acts as a great picnic spot for travellers. Alarnath Temple and most popular picnic spot Baliharchandi is the best place to enjoy your vacation here.
You May Like: Buddhist Heritage and Ancestry of Odisha
Nearby Excursions:
• Government College of Arts and Crafts – Located in the palace of former king of Khallikote, the art gallery is known to have some splendid paintings depicting Odisha's culture and tradition. The gallery is surrounded with marvellous mountains and as the alumni; it depicts works of several popular contemporary painters.
• Nirmaljhara – It is located nearby to the art gallery and the perpetual stream is channelled into different ponds, illuminated by several temples. Adventure seekers can even take a bath in one of those ponds there, if desired.
• Banapur – This area is famous for shopping, hangout activities and religious Bhagawati temple.
• Narayani – Located in the Eastern Ghats of Odisha, it has a temple surrounded with beautiful ambience. Locals and Oriya people find it extremely lucky if all temples including Kalijai temple, Narayani temple and Bhagwati temple are visited on the very same day.
• Salia Dam – Located at an approximate distance of 15 kms from Barakul and 25 kms from Rambha, it is another interesting location for adventurous leisure trips and sightseeing activities.
• Puri – It is counted among the holiest destinations of the country, blessed with appealing sea beaches, Lord Jagannath temple and pilgrims in large numbers come to visit Rath Yatra at Jagannath temple held in the month of June and July every year.
Also Read: Top 11 Must-Visit Wildlife Sanctuaries in Odisha for Thrilling Adventurous Experience
How to Reach:
• By Air – The nearest airport is at Bhubaneswar, the capital city of Odisha, which is 105 kms away from Barkul, 98 kms far from Balugaon, 108 kms far from Satapada and 130 kms far from Rambha.
• By Rail – The nearest rail station is at Balugaon, 6 kms far for Barkul and Puri, 50 kms far for Satapada. Bhubaneswar is a convenient railway junction to visit Chilika Lake and Rambha is also an option.
• By Road – Rambha, Balugaon and Barkul are located on NH 5. Regular bus service is available running in between Bhubaneswar and Berhampur that stops by at Balugaon and Rambha. Travellers can hire taxis and autos from any of these places and reach the lake in a short time span. The bus service is also available from Puri to Satapada and it is about 50 kms far from the lake, which could be covered via a taxi or an auto.
Also Read: Odisha – The Land of Temples and Grandeur
Best time to Visit:
The best time to visit Chilika Lake is in between October to March, during which the place is crowded with over 50 to 70 species of migratory birds. The weather in general remain moderately warm throughout the year and pilgrims prefer to visit in January at the time of Makar Mela held at the time of Makar Sankranti festival to bow in front of mighty Goddess Kalijai temple located on Kalijai island in Chilika lake.
Where to Stay:
Living at the vicinity of Chilika Lake could be extremely entertaining and exciting. The lovely surroundings, calm ambience and the locality can bewitch anyone to stay longer than desired and the place has good residing options as well. There are few good options including bungalows, lodges and rest houses available on the banks of the Chilika Lake as well as at Rambha and Barkul with pleasant views and relaxing environment.
Planning to reside at Chilika Lake with your loved ones in a peaceful setting? Avail services and tour package from Best Choice Holiday as per your desire and within your budget and let the time be the best of your lifetime.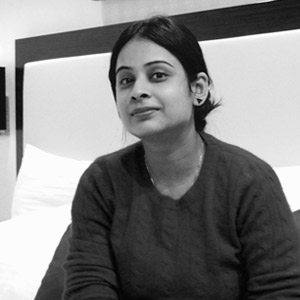 With 10+ years of experience as a "Content Professional", I worked on different verticals till date. It helped me evolve as a person, both personally and professionally. I love to read, write and dig in to core to make a piece informative and interesting to read.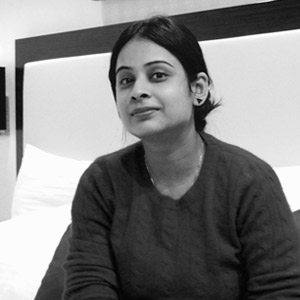 Latest posts by Swati Bansal (see all)